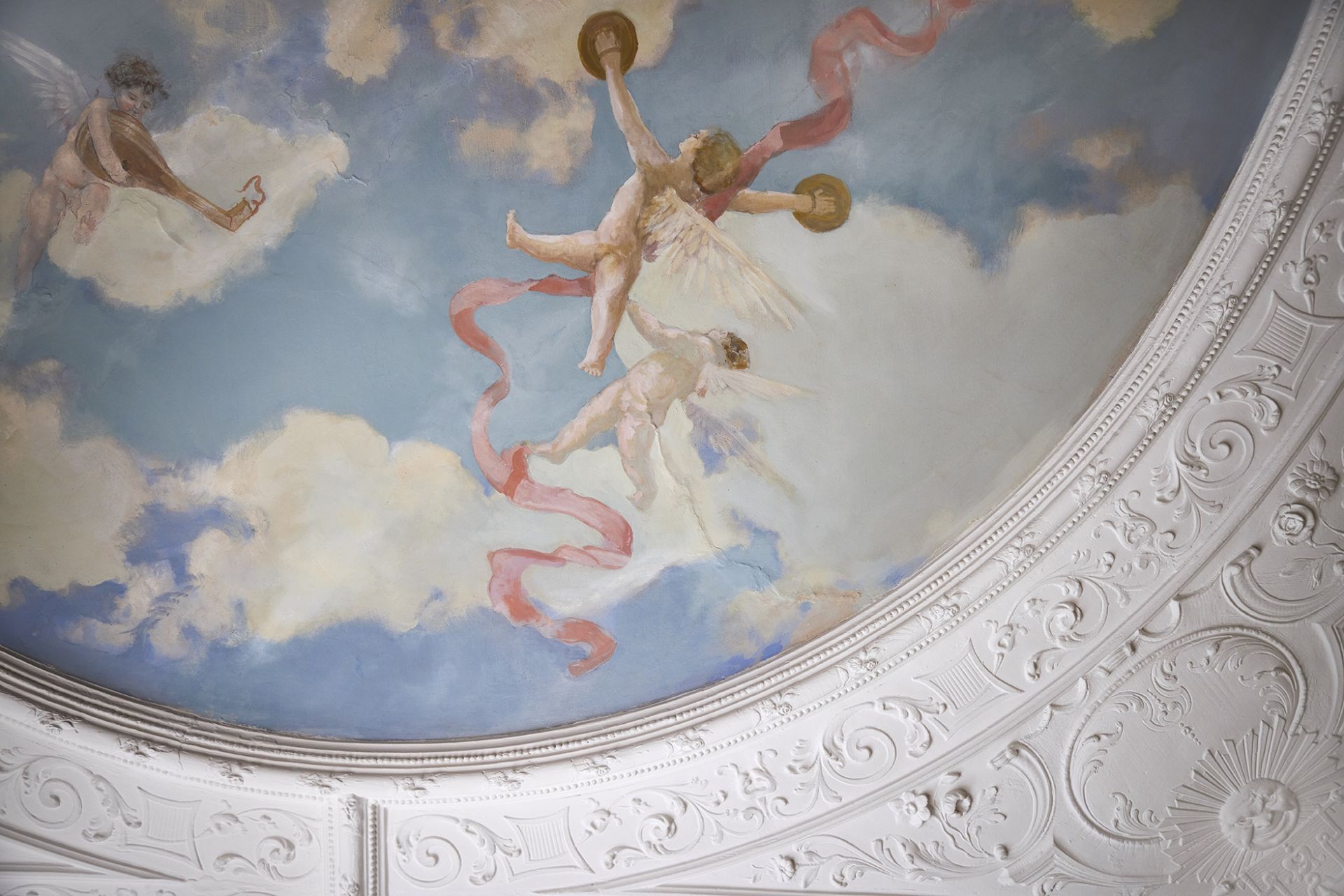 case
Modern meets tradition in
Gothenburg advertising studio
When advertising agency Nunchi moved to its new premises on Linnégatan in Gothenburg, they chose furniture from EFG to put a modern, Scandinavian stamp on the traditional, historic premises.
Ad agency Nunchi's new office is located in a turn-of-the-century building with high ceilings, stucco, herringbone parquet floors and cherub ceiling murals. The premises, which date back to 1899, are said to have been HRH King Oscar II's banqueting hall, and a sense of history remains, even though today's furnishings create a significantly more modern impression. The premises are furnished with chairs, desks, meeting tables and storage from EFG in various models, colours and materials.
"There was a great deal to work with right from the basics. By making good use of the original stucco, walls and floors we were able to focus on re-use and allow EFG to look after the modern, Scandinavian element. Our vision was to create an inspiring place where stylish, functional furniture shares space with selected and sometimes surprising objects", says Victor Johansson, interior designer at Krook & Tjäder.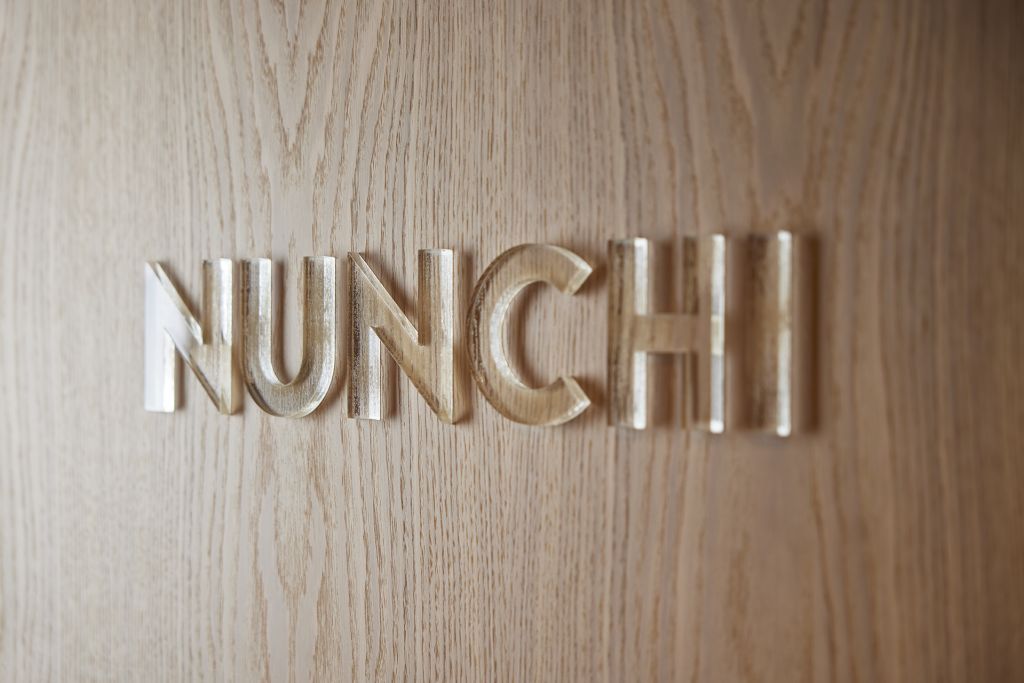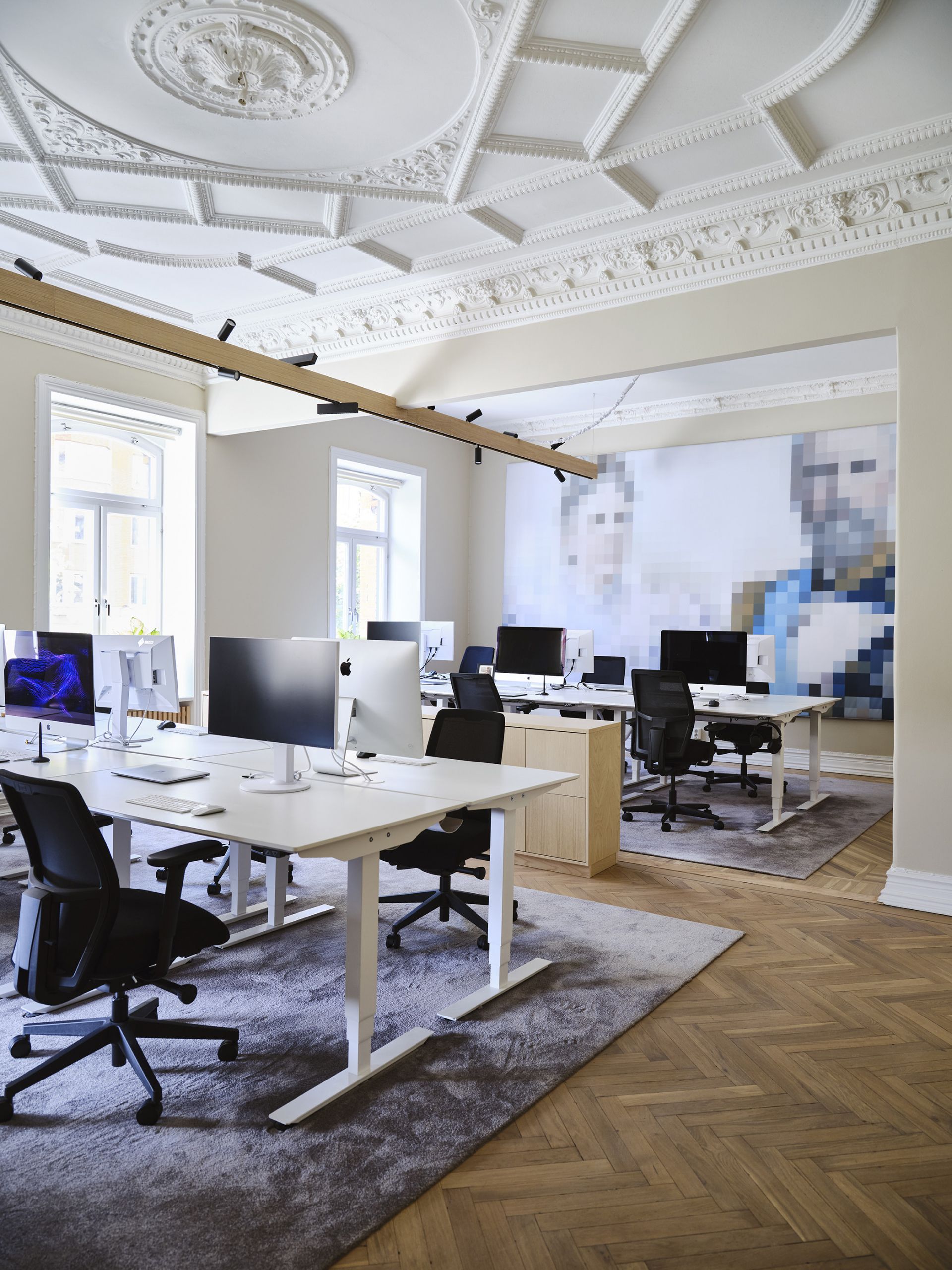 CASe
Customer: Nunchi
EFG's role: Furniture supplier
Interior designer: Victor Johansson, Krook & Tjäder
Completed: 2021
Floor space: 188 sqm
Location: Gothenburg
Business operation: Advertising agency
Kitchen with built-in culture
The kitchen is the company's heart and the place where Monday breakfasts, lunches and other informal meetings take place. It's home to Zoe chairs in light ash with black leather seats for long, comfortable sessions at a site-built oak table, which was already on the premises, and supplemented by a stand from Collaborate.
"We wanted to conserve a sense of the traditional in the room, while bringing in a modern, creative feel that represents us. It should provide a pleasant sense of welcome without feeling too domestic", says Marcus Hessel, partner and CEO at Nunchi.
Blue sky thinking
The studio's biggest meeting room with its magnificent stucco was painted royal blue from floor to ceiling. To achieve a coherent monochrome look, the room was matched with the Collaborate table with a circular top and integrated sockets and the Archie meeting chair in blue upholstery. With a diameter of 2.4 metres, Collaborate can invite the entire office to meetings. Pulse storage cabinets in pale ash line the walls with a custom seat in cognac coloured leather.
The royal blue contrasts with the natural, pale palette and goes well together with materials such as wood and leather

Marcus Hessel, partner and CEO at Nunchi
Colourful meets grey
The smaller meeting room uses shades of grey and the gradient-sprayed walls provide a contrast to the colourful abstract art from Studio Aorta and Adèle Tornberg. The HideTech conference table has built-in power sockets concealed inside the table for ease of connection. Meeting chair Woods provides great 'give' for meetings long and short.
Studio with open workspaces
The bright and airy studio is home to rows of the height-adjustable Rise desk in white, paired with the Soul office chair from Savo. Pulse in pale ash is used instead of bulky hutches to provide smart, slimline storage. Pulse was fitted with custom back panels which make them look great in the centre of the room, where they also serve as a partition. Pulse with key lock can also be found in the far corner of the studio. King Oscar II and his wife Sofia adorn the acoustic wall panel that ensures a pleasant sound level.
"Being able to offer our employees sustainable, ergonomic and durable furniture is important to us", says Marcus Hessel.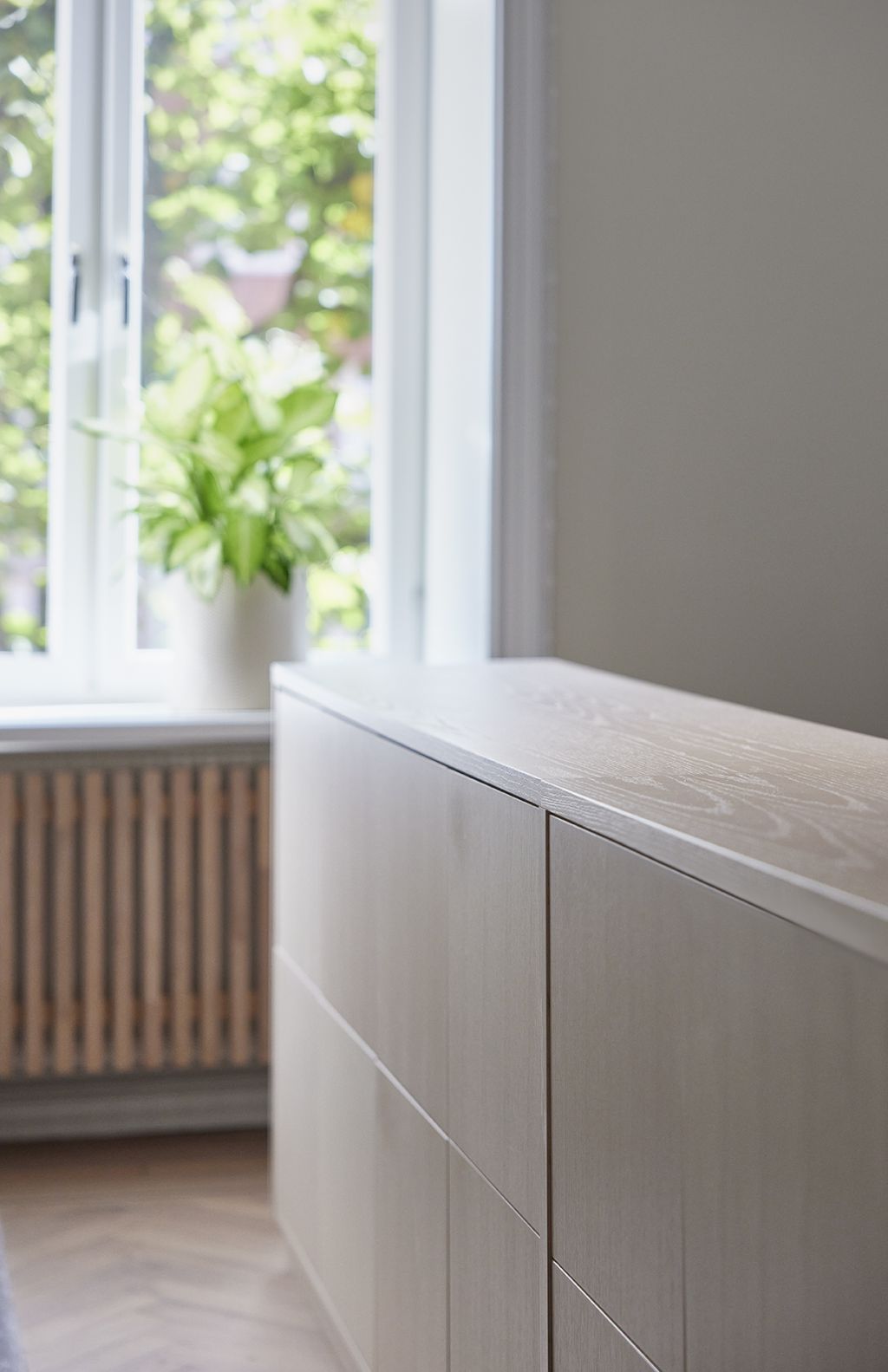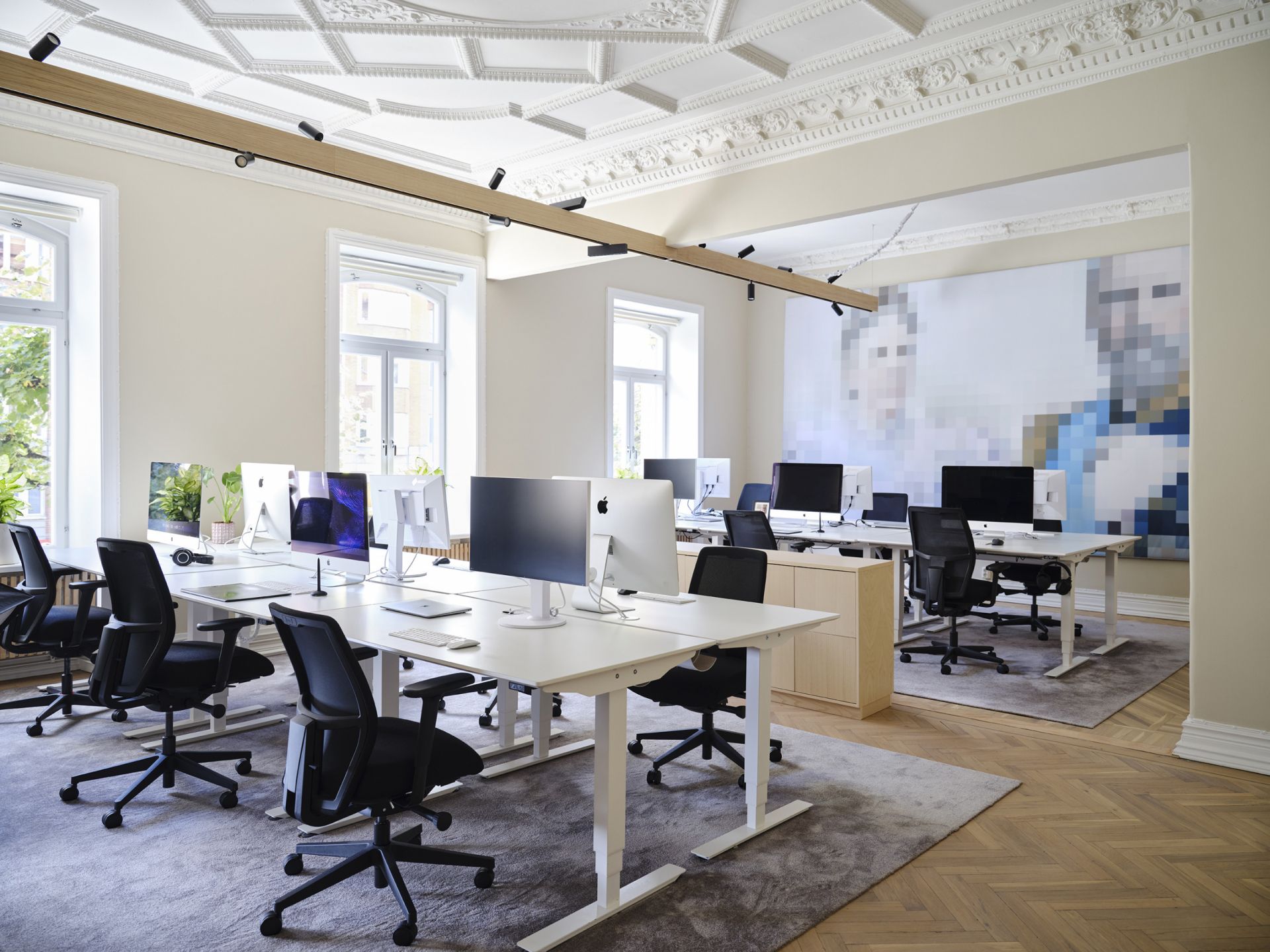 "Furniture from EFG enabled us to work on a broad front with everything from Scandinavian classics to custom-made, newly found favourites. Something as mundane as a sound absorbent panel could be raised to new heights with the pixelated image of King Oscar II and Sofia. Another favourite is the wooden luminaire, which solves the entire lighting package by linking together the studio, lounge and conference room", says Victor Johansson.
LPs in the lounge
In the hall, people are immediately greeted by a modern, stylish impression. The walls boast oaken panelling while rope lighting creates a floating ceiling that leads the way into the 'analogue' lounge.
There is comfortable seating and meeting spaces without screens where people might even enjoy an LP or two on a Friday afternoon. A specially commissioned painting by illustrator Mattias Lundin hangs above the sofa. The painting's message and colourful details provide contrast and add character to the room.
The lounge also has a special storage solution where Pulse has been built vertically to form a pillar. There is a balcony from the lounge that extends the feeling of a single space out toward Linnégatan.