How does EFG work with sustainability and circularity?
At EFG, we work constantly to reduce our environmental impact by using materials, energy and resources as efficiently as possible. Under our design philosophy, we create long-lasting products that are made to be kept for as long as possible.
The furniture industry is facing many sustainability challenges such as deforestation, social responsibility, chemical usage, finite resources, waste and above all, how all of these things impact climate. We are actively engaged in meeting tomorrow's challenges by being among the industry leaders in terms of sustainability and circularity.
Our design philosophy
At EFG, we live by our keep-your-darlings design philosophy, under which we design flexible, long-lasting circular products that can be updated and renovated. In order to work with sustainability in a concrete, rewarding manner, we have identified the following focus areas: sustainable product design, sustainable materials choices and surface treatments, and sustainable purchasing with full supply chain insight.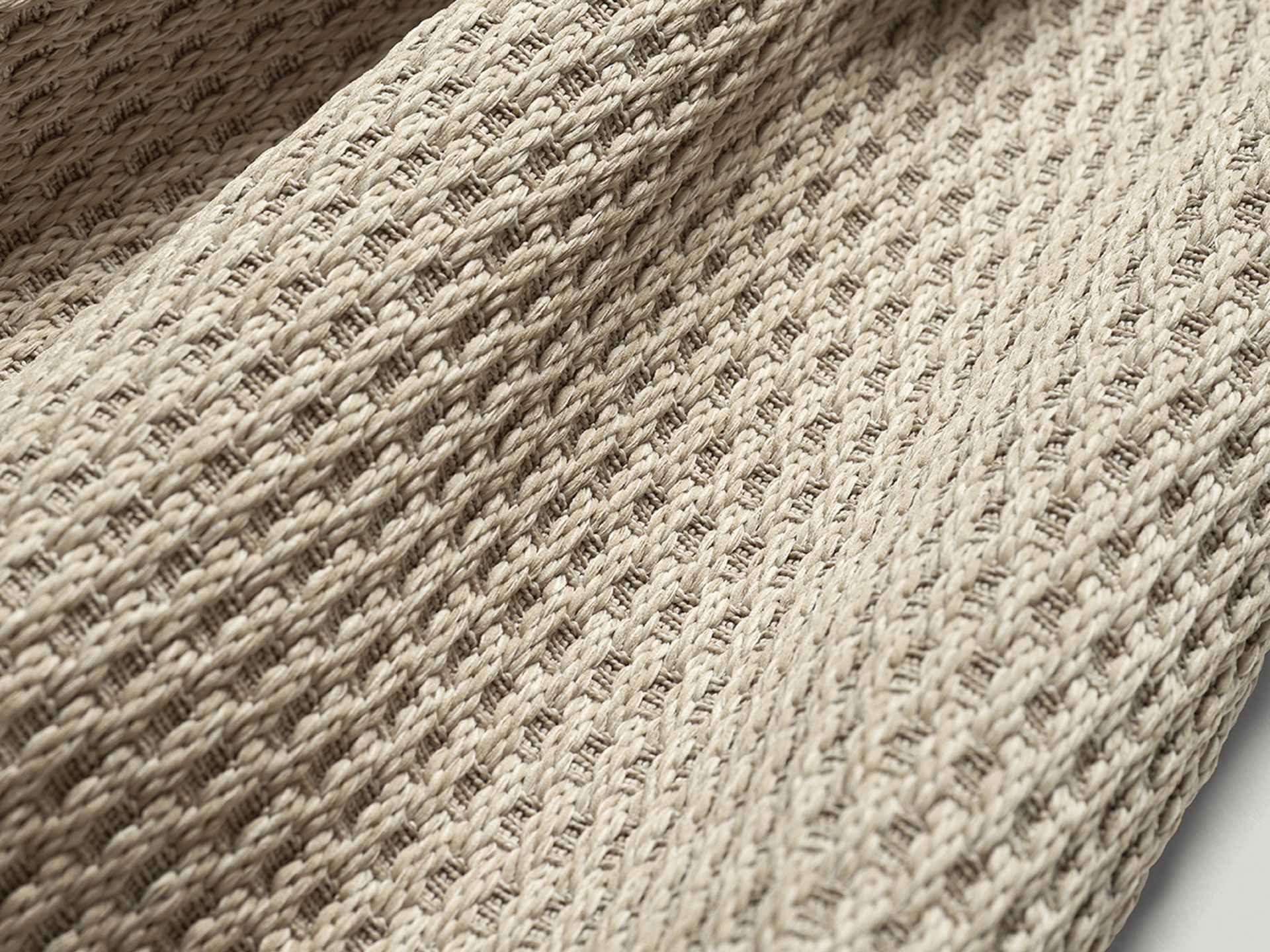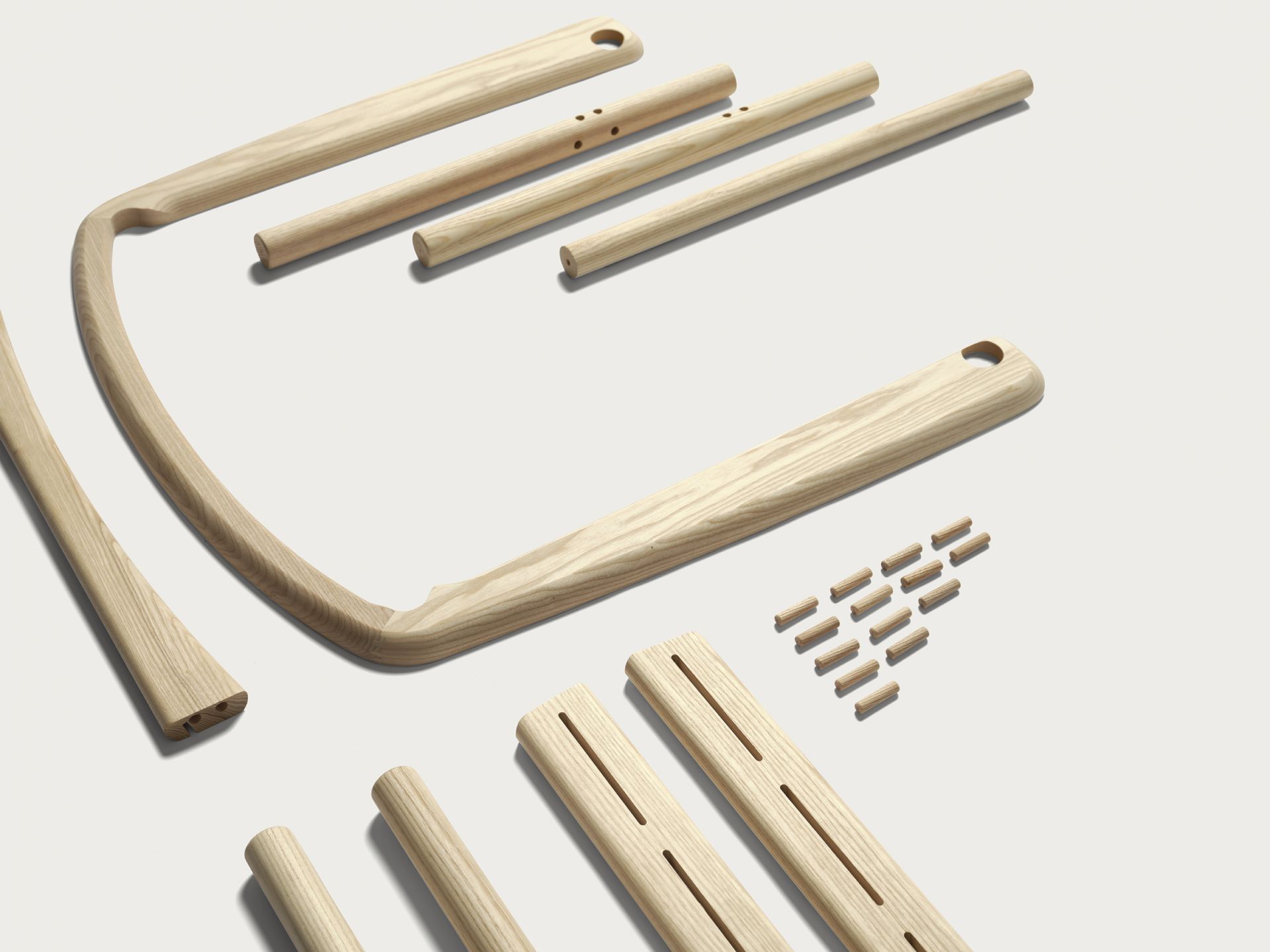 Just what is sustainability?
As a furniture manufacturer, we impact the environment in several different ways such as through haulage, energy during production and material usage, but the biggest environmental impact in furniture manufacturing is the use of raw materials. Haulage only accounts for around 2 percent of a product's carbon footprint, while around 85 percent of its climate emissions come from the material. Thus, it's important that furniture be made of the right material, i.e. renewable, recycled and recyclable materials and that we do not use more of it than necessary during production. We strive to manufacture with as small a carbon footprint as possible, both during production and use. It's also important that furniture last a long while. It's obvious that a piece of furniture that lasts 20 years is better for the climate than a piece that only lasts 5. For EFG, sustainable design means more than just a long-lasting product; it must also be of high quality and have a modular design.
The circular model
The circular economy is about using resources in a way that minimizes waste. Four criteria that can be linked to circularity are extended product life, non-toxic cycles, resource-efficient usage and the circulation of materials. The latter also includes recycled and renewable materials and designs that make dismantling and renovation easy. In contrast to a linear economy where raw materials are turned into goods and sold, used and discarded, the circular economy is a cycle in which end-of-life products are put to good use. This can be achieved by extending product lifetime through reupholstering, repurposing, renovating and remaking the product or recovering the material. Circular materials flows limit emissions by around 45 percent. The circular use of furniture also allows us to reduce the carbon footprint by 20–40 percent compared to a new purchase.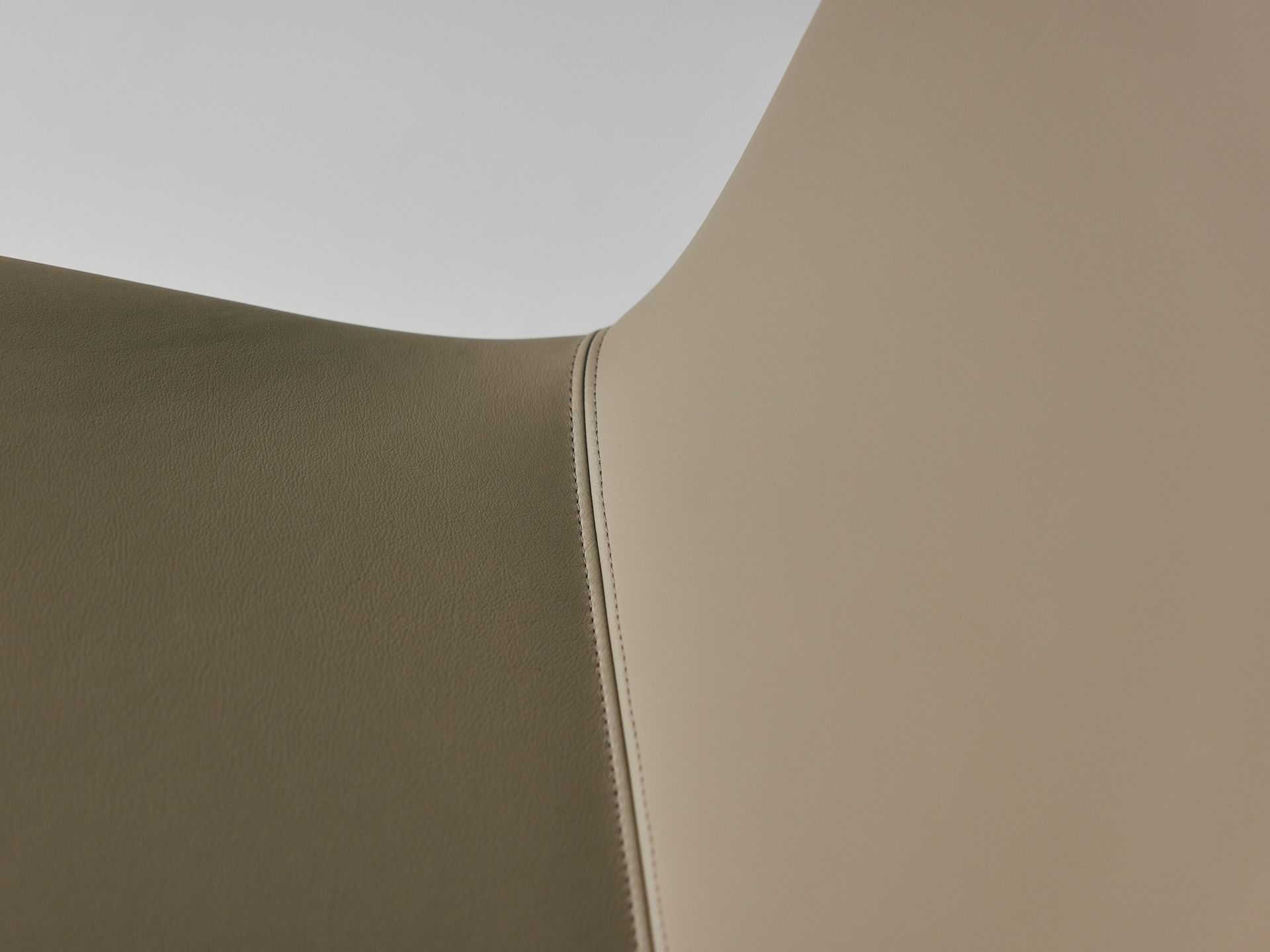 Layer by layer-design
At EFG, we have adopted the circular model in the design of our furniture. The products feature a layer-by-layer design in which components and upholstery can be separated, replaced and repaired, making them easy to update over time. Also, timeless design and flexible structures render our products aesthetically durable. We are working hard to transition from linear production to circular where we reuse and recycle both products and materials. The goal is for all of our products to be climate neutral by 2040.

Eco-labelling and certifications
We are working with a number of eco-labels and certifications as an additional step in our sustainability efforts. The majority of our products bears the Nordic Swan or Möbelfakta labels, meaning they meet the requirements for quality, the environment and responsible supply chains. Fully 80 percent of our fabrics bear the EU Ecolabel or OEKO-TEX. The wood we use is FSC® certified* from responsibly harvested forests.
*FSC-C009111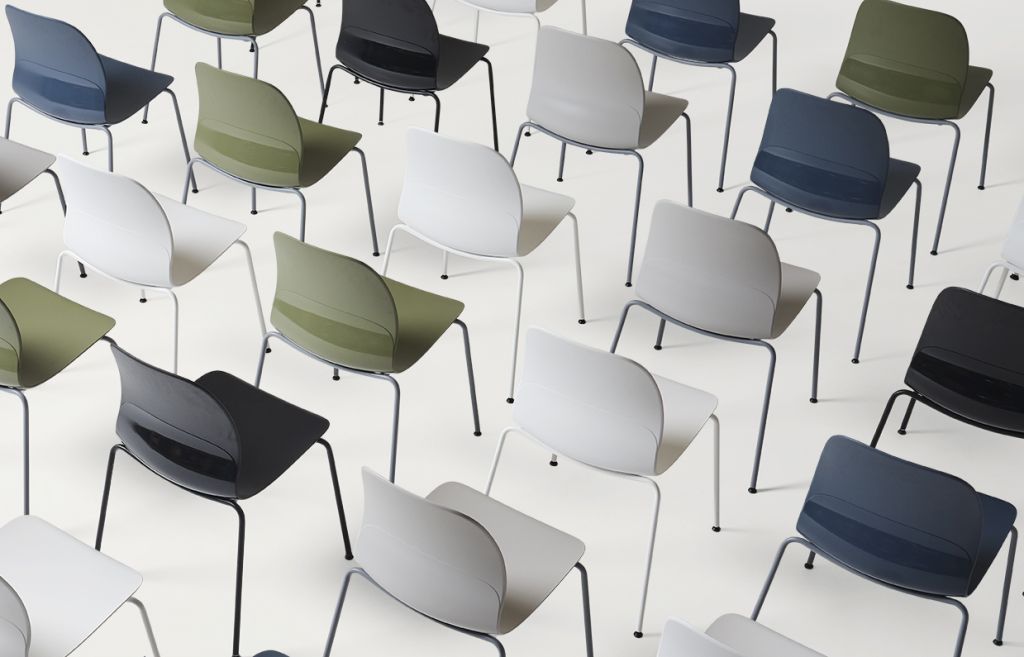 Archie and Evo – two sustainable examples
Archie is one of the most sustainable plastic chairs on the market; in contrast to other plastic chairs, it's fibreglass-free and thus 100 percent recyclable. Fibreglass is used to reinforce plastic for added durability, and less material is required during manufacture. But because the fibreglass is cut during recycling, plastic quality is degraded and material lifetime shortened. Because Archie does not contain fibreglass, the chair can be recycled any number of times while maintaining the same quality.
The shell from the black, upholstered chairs contains 50 percent recycled plastic – another of Archie's environmental advantages. The reason only the black shell is made from recycled plastic is because the latter consists of a greyish-brown compound that can be dyed black, while a good result is difficult to achieve with other colours. When switching colours in production there are always a few shells that are discoloured, but instead of scrapping them we use them for upholstered chairs, which is resource smart, economical and eco-friendly. Archie is also Möbelfakta labelled, while its padding meets Nordic Swan eco-standards.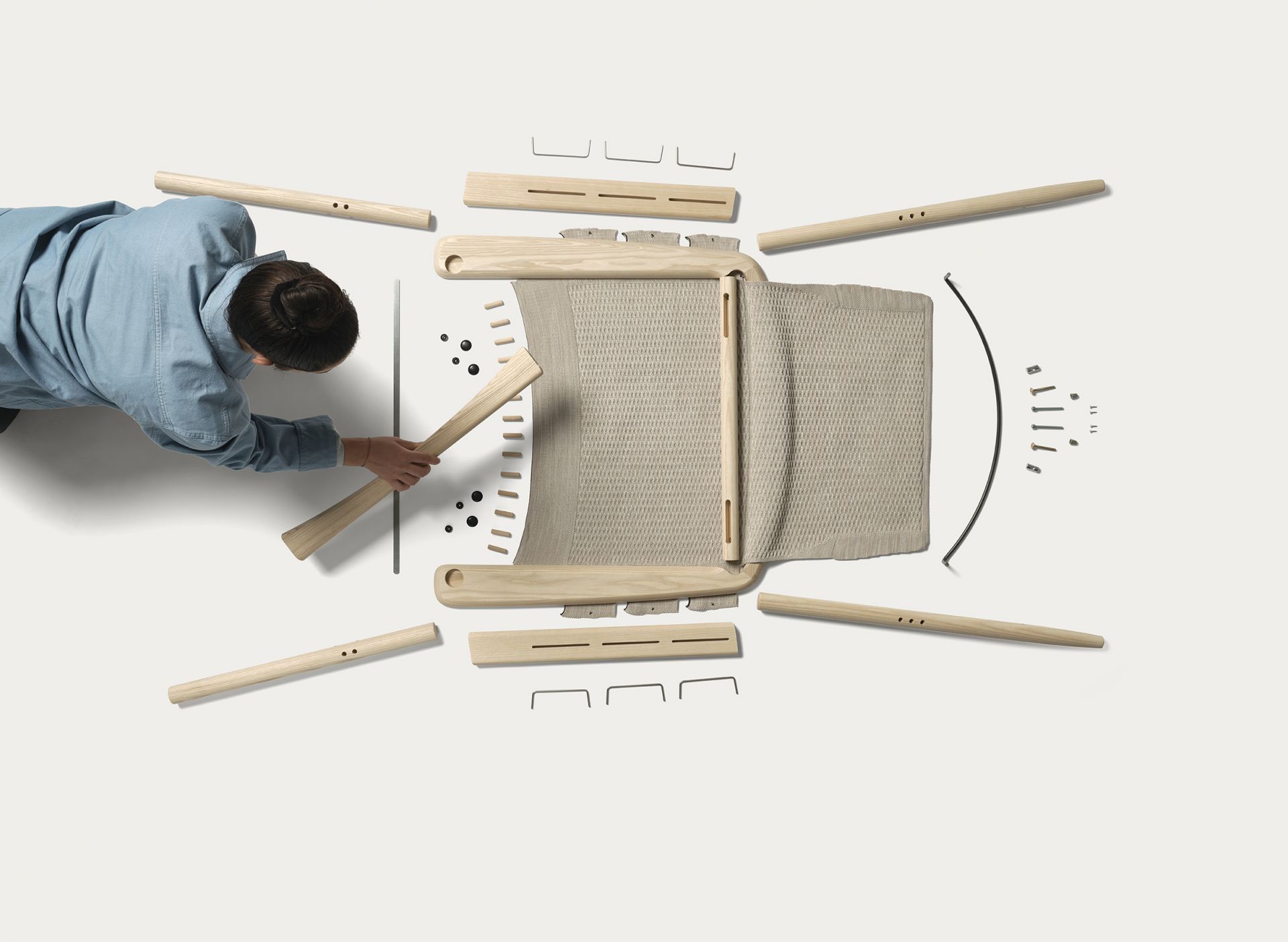 The Evo armchair is sustainable from many aspects. It's made using as little material and as few components as possible, and every part can be replaced or recycled, making it both resource and climate smart. The fabric bears the EU Ecolabel and is 3D knitted in a single piece. This minimizes fabric waste during production, and all fabric produced becomes part of the product. The polyurethane foam often used as padding in furniture is one of the least eco-friendly materials from a chemical standpoint.
Evo's design with its fabric fashioned in a single piece means the armchair does not require any padding. Evo is made from FSC® certified* wood, water-based adhesive and paints and bears the Möbelfakta label. It would be difficult indeed to find an armchair with a lower carbon footprint than Evo.