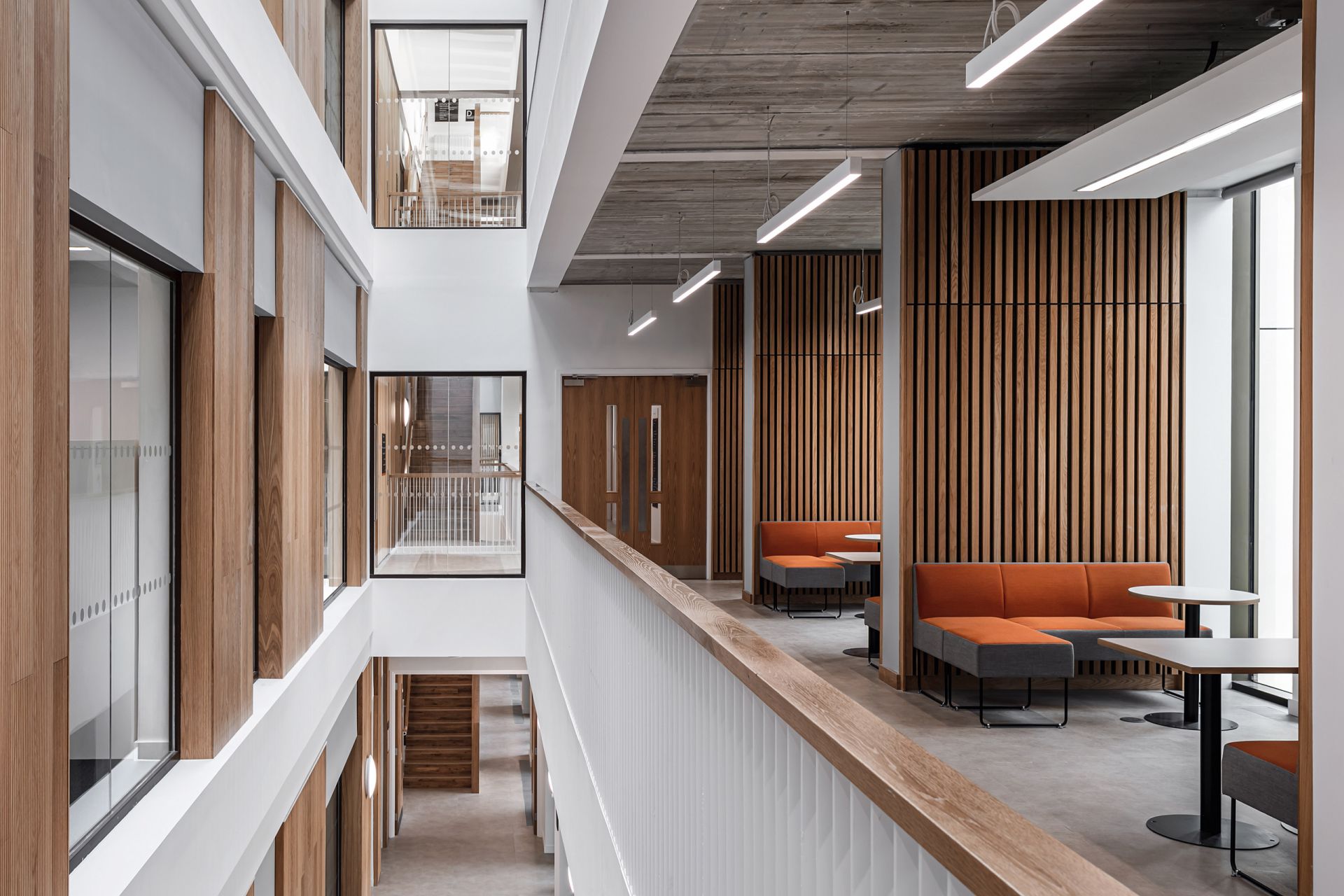 case
EFG furnishes the Health
Innovation campus at Lancaster University
EFG has delivered furniture to the 86,000 square-foot Health Innovation Centre at Lancaster University in England. The school's four floors have been furnished with chairs, sofas, pouffes and tables in multiple variants and colours.
Furniture and tables for lounges and open spaces
The Health Innovation Campus at Lancaster University serves as a platform for collaboration between innovators, academics, caregivers, companies and the public. The school seeks to develop sustainable solutions for some of the most important health and care challenges in the region. The rooms are characterised by high windows, tiled floors, ribbed panelling and various room solutions for activity-based work. EFG's furniture was chosen on the basis of its design, sustainability factor and reliable quality. Among the products, Archie in particular stands out in upholstered and unupholstered versions that are 100% recyclable, as does Mingle in plain and two-coloured fabric. The university's event section houses lecture halls, an exhibition space, a café and an innovation lab.
CASe
EFG's role: Furniture supplier
Interior decorator: John McAslan + Partners
Completed: 2020
Location: Lancaster, England
Business: School



The reception and exhibition areas have been furnished with variants of the Mingle lounge sofa in wine red, along with the Woods Club armchair in matching upholstery. Variants of the Collaborate table and pouffes from Create Seating can be found in selected places in the open environments. Mingle, Woods Club and Archie in calm shades of grey and blue can be seen in the company lounge.
The building has state-of-the-art teaching facilities. This development will really put Lancaster Medical School on the map and enable close collaboration between students and industry.

Professor Jo Rycroft-Malone, Dean, Faculty of Health and Medicine, Lancaster University
Comfortable seating in meeting rooms and dining hall
On the ground floor next to the workstations with Savo Soul is a hot desk space furnished with Archie – the perfect place for collaboration and impromptu meetings. The meeting rooms on the same floor are in shades of grey and furnished with the HideTech meeting table with technology cleverly concealed in the table top. Archie on runners is used in the 12-seat meeting room, and in the 10-seat room the table is paired with Woods with polished aluminium swivel bases and flat steel armrests. The Hive Café has another variant of Mingle, here in green paired with a HideTech lounge table and olive-green Archie.
I think it looks fabulous and I hope it will be a brilliant place for everyone who uses it.

Mick Donoghue, Construction Manager at BAM