Nova is a chair with many styles. Our most popular chair family has a timeless design and is available in a wide range of variants. By choosing the seat shell, frame and upholstery, the chair can be adapted to conference rooms, lounges and other rooms for work, meetings or socialising.
A family of chairs for the entire office
Nova is a neat family of chairs which is available in many variants, all with the same stylish design. The clean, soft lines and the stable, slightly angled back make the chair an obvious choice for the conference room, auditorium, dining room or lounge. The chair is easy to move and stack, while simultaneously being durable and high quality. Nova can be varied in everything from seat shell and frame to fabrics and armrest, to fit into different parts of the office. Nova is also available in a variant with armrests and a star base with wheels. The star base variant is available with a tilt function for even greater comfort and fits into larger or even home offices. Choose from a wide range of standard colours, materials, seat shells and upholstery. Would you like your chair fully upholstered in fabric, without upholstery, with a colourful sledge base or as a wooden chair with only the seat upholstered in leather? The variants make it possible to choose whether you want Nova to stand out or blend in, but above all the chair is guaranteed to fit into your office.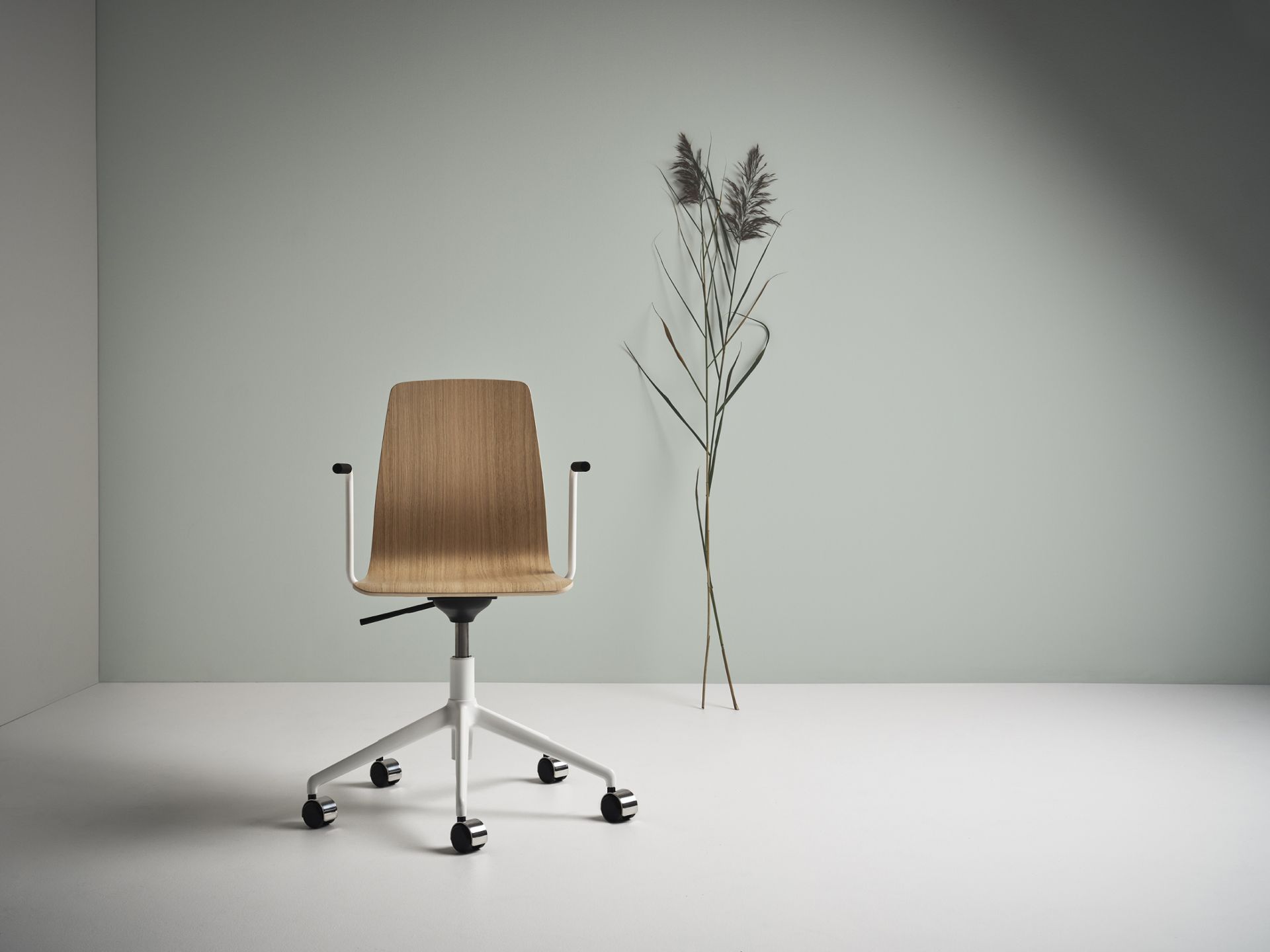 A climate smart choice
All of the parts in Nova can be replaced, which means the chair can be upgraded over time. The seat shell is available in FSC certified wood, which means Nova in wood has a carbon footprint that's about 10 times smaller than a plastic chair. Combined with wooden legs, this is a chair with a really small carbon footprint. The filling in the upholstred variants of Nova passes the Nordic Ecolabel's tough environmentally criteria, and the upholstery is available in fabrics marked with the EU Ecolabel.
Change the chair with your choice of design
Nova has a form-pressed seat shell developed to provide comfortable support to the entire back. The seat shell is available in two back heights, normal and tall, with the tall model having a slightly rounded back. Your choice of shell sets the feeling immediately, and you can choose between seat shells in oak, variants of ash or laminate. Choose whether you want the whole or parts of the chair upholstered – for example just the seat or the back. Nova is available with frames in metal or wood and with a rotating frame in plastic. The metal frame is available in a variant with a sledge base that can be lacquered in whatever colour you like. And of course you can also have the chair without upholstery, with a choice of frame. It's even possible to choose closed or open armrests. The opportunities to shape Nova to your needs, taste and interior mean that you get a lot of chair for your money.