The modular Ori sofa system offers character and comfort
In collaboration with the Front design studio, EFG has created Ori, a modular, sculptural sofa system with an inherently comfortable design ideally suited for work. Ori emerged from the need for seating that fulfils many different functions while also imparting character to the workplace. With a concept based on folded paper, Front created a unique design expression evocative of origami's perfect symmetry.
Today's flexible working methods demand furniture that meets multiple needs and looks great in many different environments. More and more people are beginning to accept the notion that the workplace is more than just a conventional desk. At the same time, social spaces where people can meet and enjoy a sense of community have grown in importance. When creating Ori, Front began with the basic idea of sitting and issues regarding the role of the office. About where and how we meet, and what makes us happy in the workplace today.
"We discussed new approaches to work, and were excited about creating a modular sofa system that can be modified and assume different functions depending on how you put it together," says Anna Lindgren, designer at Front.
While the result was a sofa system that can be designed in many different ways to suit its surroundings, its unique design expression also allows it to be the centrepiece in the office, lounge, hotel lobby or public spaces such as libraries and universities. The system comprises seven modules, each with a base and seat, as well as a two-seat and three-seat sofa.
Well-developed comfort for different sitting postures
Its inherently comfortable design and accessories such as tables and power outlets make Ori more than just a sofa – it's a system that invites occupants to enjoy many different sitting postures. While its comfort allows occupants to sit and work for extended periods, Ori is equally well suited for short meetings in privacy or as a rendezvous point in the centre of a room.
"Many of today's sofa systems often create a technical impression with various components that are clicked in place. We sought to make a work system with the same functions and sitting quality, but with a neater, more sculptural feel," says Sofia Lagerkvist, designer at Front.
The proportions are carefully designed to allow the modules to fit together naturally, as if they all formed part of a single entity, making every shape look natural. This provides the modular system with a lightness and elegance like no other. The seat height, backrest rake and 'give' are other factors that were tested and refined to achieve the best possible result. An adjustable cushion for extra back support is also available as an option.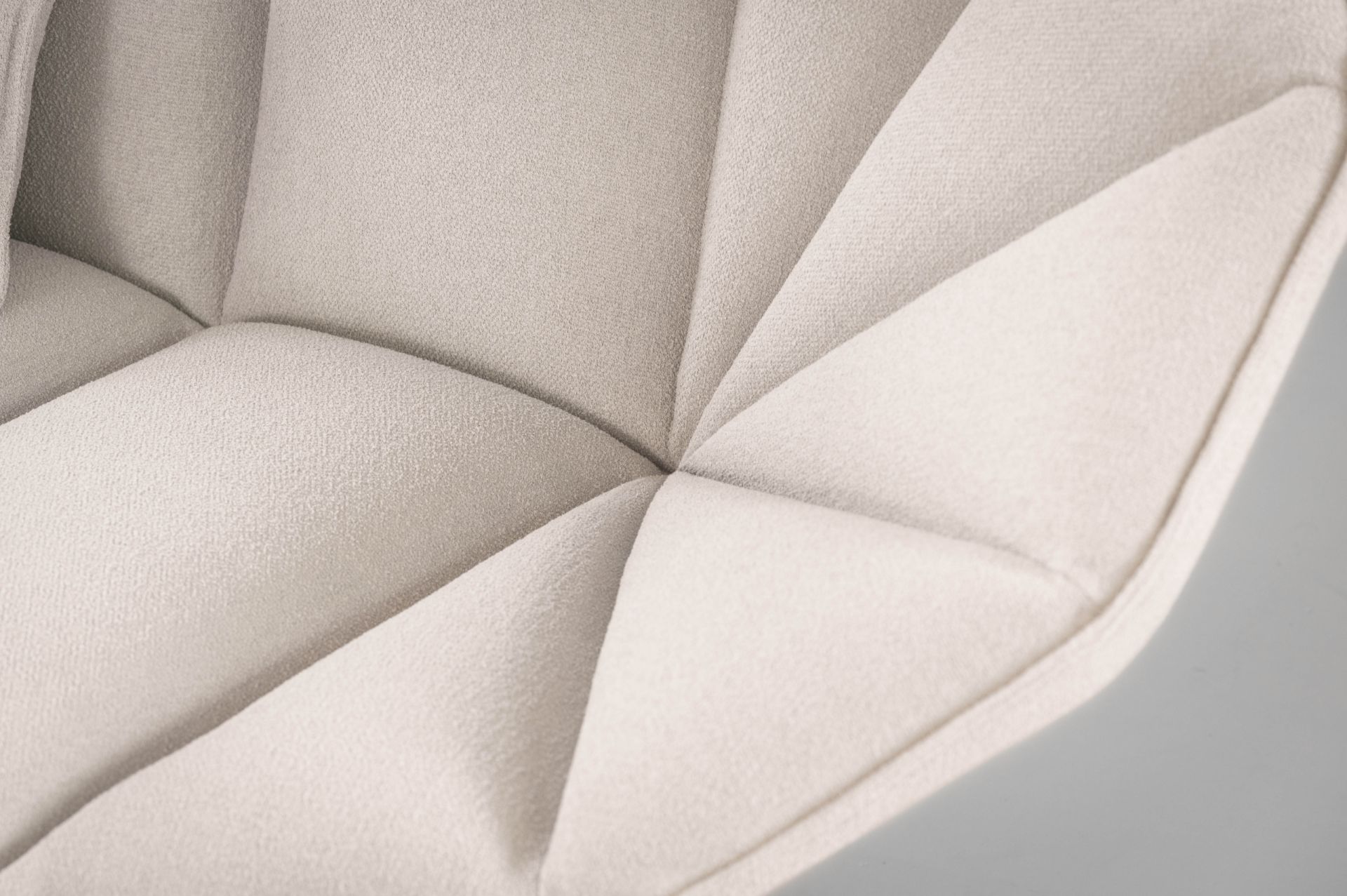 Inviting, playful design
In designing Ori, Front wanted to create a sense that something had unfolded out of modular system. They began with folded paper models, and plumped for a rounded fan shape that recurs in the design when the sofa curves, capturing the minimalist aesthetic of origami. A lot of work went into the faceted back of the sofa to create an impression of a directionless piece of furniture with a playful, sculptural feel. The symmetry that gives the furniture its distinct character is also visible in the back. A decorative bead runs around the edge, emphasizing the rounded shapes and imparting a softer impression. The recessed base contributes to the neat appearance and makes Ori take up less space, allowing multiple workstations in relatively small areas.