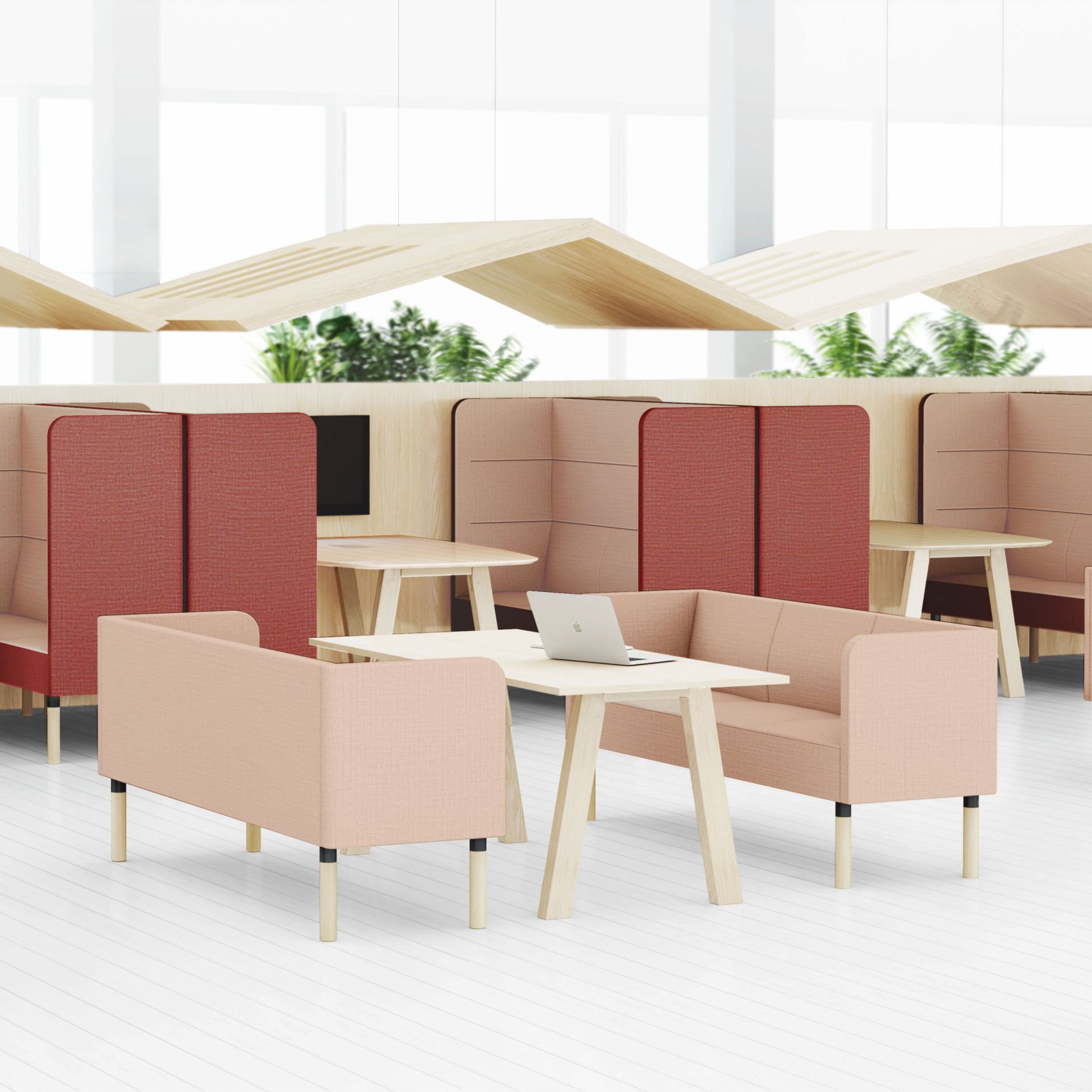 Acoustic screens and booths reduce noise and screen off areas
Using screens and sound absorbers, it's easy to create a more pleasant acoustic environment and screen off different sections of the office. EFG offers a wide range of acoustic screens and sound absorbers for tables, walls and floor, together with acoustic booths. Amongst the screens in our range you will find table screens, floor-standing screens and wall screens, together with booths that can be placed at workstations. The table screens come in several sizes and fabric colours to match other fittings. The screens are also available as foldable variants which provide privacy protection and transform the user's desk into a more confidential zone. Wall-mounted screens act as a supplement to floor-standing screens and save space in the office. Wall screens are ideal for both open spaces and in meeting rooms, auditoriums and dining rooms. Our floor-standing screens can be used as room dividers in open environments and can even be linked together to create rooms-in-rooms. You can use acoustic booths to create private and quieter workstations for work desks and in other places where there is a need to work undisturbed.
Visual and functional interior design with sound absorbing screens
EFG's acoustic screens are available in many different sizes, shapes and colours. The wide range of fabrics means that the screens and booths can easily be matched with the colours used on walls, furniture and other fittings. The table screens are available in single or two-colour variants together with contrasting seams in a wide range of colour combinations. Create a more pleasant environment for both ears and eyes with wall-mounted fabric upholstered sound absorbers, which are available in a number of colours and can be combined to create patterns. Our acoustic booths, or "pods", provide endless opportunities to create screened, sound absorbent seating and room-in-room solutions. The booths can be upholstered with one colour on the inside and another on the outside. It is also possible to build in lighting, tables and sofas. The booths can be positioned adjacent to a desk or around a table with sofas or chairs to create meeting places in the form of room-in-room solutions. EFG's floor-standing screens can also be linked together to create a room inside a room.